Upcoming Publications and News
The House of One Thousand Eyes comes out on September 11th! Here is the schedule for the blog tour:
The reviews are starting to come in.  Kirkus Reviews calls the novel "A stunning and compassionate portrait of a young woman fighting to retain her sense of self under a repressive regime." Read the entire starred review here. Netgalley says: "Not your usual setting, not your usual story, and certainly not the usual ending." The full review is here. Quill and Quire calls it "captivating" and "beautifully rendered."
The House of One Thousand Eyes was named a Buzz Book for the 2018 YA fall/winter releases in Publishers' Lunch and has been chosen as a Junior Library Guild selection.
This year's Okanagan Valley Writers' Festival was fabulous! Very grateful to have shared the weekend with such talented writers.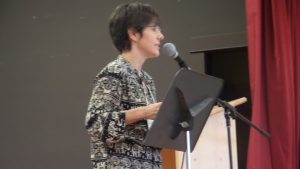 Here's a sneak preview of the cover of my newest novel, The House of One Thousand Eyes. Annick Press has used it as their Fall 2018 catalogue cover! The book comes out in September. It is historical fiction for young adults, set in East Germany in 1983.
Great news from the Surrey International Writers' Conference this year. My short story, MVP, won the Storyteller award. Here I am, with Diana Gabaldon and Jack Whyte, (and that's KC Dyer in the background).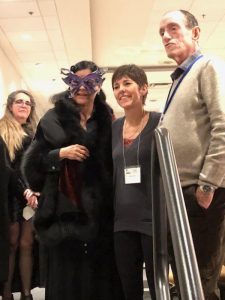 MVP was published in April, 2018, in Pulp Literature magazine.
Back in September I paid a visit to the Tea & Ink Writing Club to chat with them about writing poetry. Their fearless leader, Mo Patz, wrote about the evening in her blog. I also gave a workshop in Kelowna on three-act structure for the Word Guild. I love teaching, not only because it's inspiring to see writers get it, but also because I get to learn the material all over again and maybe, if I'm lucky, remember to apply it to my own work 😉
I am thrilled to announce that A Year of Borrowed Men is a finalist for the TD Canadian Children's Literature Award. Thank you to Renné Benoit for the beautiful pictures, and to Pajama Press for their incredible support. And of course, thank you to my mom: this is her story. The book has also been nominated for the Ontario Library Association's 2017 Forest of Reading Golden Oak Award.
Here's what the CBC has to say about it.
A Year of Borrowed Men was also nominated for a 2016 Chocolate Lily Book Award.
The Langley Christian School chose it as the winner of their annual Best Book Contest, and the Vancouver Public Library has included it in their booklist, "Perfect Presents," 26 suggestions of the best Canadian books to purchase for Christmas.
Jill Esbaum has featured A Year of Borrowed Men on the Picture Book Builders website, including an interview. Take a look!
You can find me on TeachingBooks. And if you're looking for reviews of the book, check out the Quill and Quire, Kirkus Reviews, Winnipeg Free Press, Orange Marmalade Books, Books For the Curious Child, and CM Manitoba.
The Calgary Herald said: "This story reminds us that friendship has no borders. Beautiful watercolour drawings and original photographs make this a great book for youngsters."
The Victoria Times Colonist named A Year of Borrowed Men one of their top picks for 2015.
Read reviews of my novel, The Beggar King, from Geoff Cole,  CM Magazine in Manitoba, and Derek Newman-Stille's Speculating Canada.