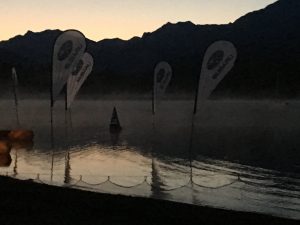 Five weeks to race day and it seems I'm still figuring out this whole process and learning new things. The training would be going well—if I was Meat Loaf. Sadly, there are three components to this race, and at least one of them is guaranteed to be a train wreck.
But there's not much I can do about that now. Life lesson? Acceptance. I hate acceptance but I'm not being given a choice.
Ironman training tends to offer many such lessons, but I've also learned some practical training hacks these days. Here they are, in no particular order:
Eat a big breakfast before a long ride. This might seem obvious, but when you're up at five-something and out the door before seven, a big breakfast is about the last thing you feel like having. Eat it anyway.
Take a swimming lesson. I'm consistently shocked by the difference between what I think I'm doing in the water versus what I'm actually doing.
When it comes to riding, you can probably do more than you think. When it comes to running, you should probably do less.
You can't always get what you want. The Rolling Stones warned us about that a long time ago, but I've never liked that song. Unfortunately, training will almost never look the way you'd hoped it would. Things go wrong. You make decisions that in hindsight seem bone-headed but at the time seemed like a good idea. That's just the way it is (see Acceptance).
Err on the side of caution. Know the difference between a little muscle soreness and the beginning of an injury. Experience is the teacher here. It also helps not to pretend it's a little soreness when you know damn well it could turn into an injury but you want to push through anyhow (see Acceptance).
If you do get injured, be patient. Let the healing take the time that it needs. I'll repeat that for my own benefit. BE PATIENT. I hate patience, too. But the training process consistently forces me to practice it.
Stop caring about Strava. No one cares about your Strava results except you. Really. If you have to do a run/walk with results that will embarrass you, who cares? Only you.
Buy new tires. They wear out. With fresh tires you're less likely to get a flat.
However, just in case: practice changing your tires. Practice a lot. Know how to use your equipment. Buy more C02 if you need to and use it at home a few times. Ask someone who works at a bike shop to teach you a few tricks.
If you're recovering from an injury and need to pay attention to your body, run alone. Running with other people is more fun but it's also distracting and can cause you to ignore the niggles that you're supposed to be looking out for.
A long ride (for me) burns about three thousand calories. It's important to replenish the deficit. I never used to bother eating a proper lunch. I do now.
Practice what you're going to do in transition. What order will you do things in? Do them that way over and over in training so they become automatic and you're not flying around trying to get it together while the clock is ticking.
The combination of Tylenol and Coke (the drink, not the drug) on a long ride might be the best invention of all time.
That's it for now. We'll see what October brings.
In the meantime, happy training if you've got a race coming up—and happy off-season if you don't.