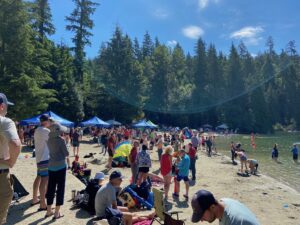 This past Canada Day, I went back to Sasamat for another kick at the VOWSA 4k swim race. It was just as much fun as the last time—and maybe a little less scary because I now know I can swim that length without dying. This was the first real race I'd done since the pandemic, and I was excited. I realized I'd missed racing.
The conditions were perfect. The swim itself was fine—not as fast as the first time, but faster than my Ironman swim and, to be honest, faster than I'd expected. I tend to settle into a rhythm when I swim longer distances where it almost feels as if I'm falling asleep. It's a nice headspace to hang out in. It's what keeps me coming back to the lake every weekend for more.
On this Canada Day, when I looked around at all the people who were there to swim various distances, I realized I knew a lot of them—all from this wonderful community of swimmers that exists in Vancouver. I hadn't appreciated how many people I'd met over the years solely through swimming. It's such a warm and supportive environment, and I felt proud to be part of it.
As for training in general…
I'm nearing the three-months-out mark, which means distances are ramping up and my hunger level is turning that dangerous corner where I can't seem to eat enough and simply want to consume EVERYTHING. I've made the mistake a few times now of going grocery shopping after a big workout. Inadvisable. I come home with everything from chicken wings to Pop Tarts. And yeah, it all disappears.
My foot injury is slowly getting better. It has been a long exercise in both patience and restraint. Mostly I've succeeded in following my physiotherapist's rules, though yesterday I probably ran longer than I should have and am paying the price today.
But as seems to be the norm with this kind of training, as soon as one injury settles down, a new (old) one rears its head. My lower back has been giving me grief again, so now I have to get that under control.
What have I learned so far this time around? No huge surprises.
Regular massage is essential.
Recovery weeks are essential.
Too much sitting is deadly.
Swim drills might be boring, but they're the best way to improve technique.
Oh, and try not to eat your weight in cheese before going for a run.
This time around I'm using interim races to keep me on track. The Kits Challenge happens at the end of July, and I plan to do the Tour de Victoria next month with friends. Hoping to do a Triple Crown in September and some long valley rides over the next few months. And then…Florida. November still feels like a long way away, but I know it will come sooner than I'm ready for it.
I'm excited. And terrified. And excited.